The Colombo Plan Staff College (CPSC), through the Director General Dr. Mohammad Naim Yaakub, took part in the Philippine Education Conference held on December 2-3, 2013 at the SMX Convention Center, Pasay City, Philippines. The conference, with the theme: "Educational Leadership for Global Competitiveness and Sustainability: Responding to the Challenges of ASEAN 2015", was jointly organized by the Philippine Department of Education, Fund for Assistance to Private Education (FAPE), Catholic Educational Association of the Philippines (CEAP), and Forum on Curriculum and Supervision (FOCUS).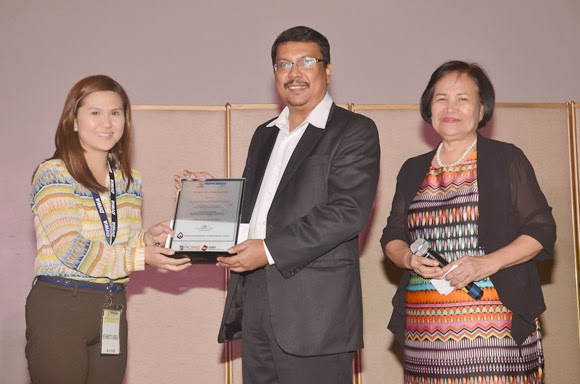 Congresswoman Bernadette Herrera-Dy presenting the Plaque of Appreciation to Dr. Naim Yaakub.
Rightmost is
Ms. Marjorie Mendenilla, Director of Technical Vocational Schools and Associations of the Philippines, Inc. (TEVSAPHIL)
The objective of the conference was to create awareness and understanding of the challenges of ASEAN 2015 to Philippine education, particularly its implications to educational delivery in the country. It also served as the venue to enable educational leaders to respond to these challenges by developing the schools' global competitiveness and sustainability.
Dr. Naim presented his topic "Learning from Successful TVET Programs", where he emphasized the various successful technical and vocational education and training (TVET) programs in Korea and Singapore. He also tackled how accreditation, particularly the APACC (Asia Pacific Accreditation and Certification Commission) accreditation system, could assure successful TVET programs. The presentation was well received by over 200 participants.
Dr. Naim during his presentation
The education conference was also addressed by top Philippine government officials including Dr. Patricia B. Licuanan, Chairperson of Commission on Higher Education (CHED); Atty. Teodoro C. Pascua, Deputy Director General for Field Operations, Technical Education and Skills Development Authority (TESDA); and Dr. Dina Ocampo, Undersecretary of the Department of Education (DepEd).