Mount Everest
Partner Ministry/Organization
Council for Technical Education and Vocational Training (CTEVT)
Recent Programs Held

2019: (1) APACC International Accreditors' Refresher Training (Feb 27-28); (2) In-Country Program on Skills for Youth Employability through Industry Linkages (Apr 8-12); (3) Customized Program on Enhancement of Qualification Systems and Competency Standards in the TVET Systems of Nepal (May 6 - Jul 31); (4) Customized Program on Executive Leadership Program for Board of Directors of Banks and Financial Institutions (Jun 16-20)

---

2018: (1) Customized Program on Recognition of Prior Learning Management (Jan 22 - Feb 16); (2) Regional Program on TVET for Socio-Economic Transformation (Oct 1-3); (3) International Conference on Innovations in TVET for Socio-Economic Development (Oct 4-5); (4) In-Country Program on Strategic Plan Development for Management Excellence (Oct 24-28); (5) Customized Program on Apprenticeship Training and Socio-Cultural Exposure Trip (Nov 25 - Dec 1)

---

2017: International Program on Sharing and Learning on National Vocational Qualifications System (NVQS) (Mar 6-10)

---

2016: In-Country Program on Research and Development (Oct 24-28)

---

2015: In-Country Program on Developing Monitoring and Evaluation Tools in TVET (Mar 9-13)

---

2014: In-Country Program on Entrepreneurship Development (Feb 10-14)

---

2011: (1) In-Country Program on PPCP in TVET (Apr 4-8); (2) Special In-Country Program on Capacity Building of Champion Leaders' Training Program (Nov 13-17)
Country Information
Official Name
Federal Democratic Republic of Nepal
Land Area
147,181 km2 (56,827 sq mi) (95th)
Population
26,494,504 (46th)
Capital
Kathmandu (pop. 1,003, 485)
Largest Cities
Pokhara (pop. 255,465)
Lalitpur (pop. 220, 802)
Biratnagar (pop. 201, 125)
Bharatpur (pop. 143, 836)
Country Borders
China (North), India (South, East, West)
Religion(s)
Hinduism, Buddhism
Major Languages
Nepali, Awadhi, Bhojpuri, Gurung, Kiranti, Limbu, Magar, Maithili, Nepal Bhasa, Rai, Sherpa, Tamang, Tharu
Demonym
Nepali
National Holidays
28 May 2008 (Declaration of the Federal Democratic Republic of Nepal)
No. of years of Primary Education
8
Major Universities
Kathmandu University, Tribhuvan University, Pokhara University
Primary School Enrollment (Total)
4.13 million
Tertiary School Enrollment (Total)
371,000
Ministry/ Ministries Supervising Education
Ministry of Education
Education as % of GDP
5.1% (2017, UNESCO)
Agency Handling TVET
Council for Technical Education and Vocational Training (CTEVT)
TVET System of Nepal
The current Education system of Nepal, which is in a transitional phase from the Old Indian system, is structured as follows:


Pre-school education; kindergarten (under-5 age group);
School education: primary and secondary education (duration: 12 years, children aged 5-17);
Higher education: (children aged 18 and up)

The language of instruction in primary and secondary education is Nepalese. Higher education is offered in both English and Nepalese. All primary and lower secondary education (upto grade 8) is compulsory.



Figure 1. Education System in Nepal
Note. Figure from The Nepalese Education System Described and Compared with the Dutch System, by Nuffic.

Vocationally-oriented secondary education

Vocationally-oriented secondary education is coordinated by the Council for Technical Education and Vocational Training (CTEVT). Students who have completed lower secondary classes upto grade 8 may opt in to CTEVT programmes that lead to the Technical School Leaving Certificate (TSLC). Those who attained an SLC after grade 10 may continue to other programmes on the path to a diploma or other qualification such as the I.SC.AG or Proficiency Certificate.

NSTB

The Skill Testing Authority (STA) formally initiated skill testing activity in Nepal in 1983, and introduced a system of occupational classification, development of skill standards, skill testing and certification based upon the guidelines of Asia Pacific Skill Development Project/ International Labor Organization (APSDEP/ILO). After the constitution of CTEVT in 1989, the STA was integrated into the jurisdiction of CTEVT as the National Skill Testing Board (NSTB)
Qualification Framework
Introduction and Purpose of Having National Vocational Qualifications Framework in Nepal

The main aim of the introduction of NVQF in Nepal is to address weaknesses in the current systems of technical and vocational education and qualifications. Amongst the weaknesses identified are:


No clear and readily understandable pattern of provision as well as considerable overlap, duplication and gaps in the TVET provision;
Many barriers to accessing TVET qualifications and inadequate arrangements for progression and transfer of credit
Assessment methods are biased towards testing of knowledge rather than skill or competence
Insufficient recognition of learning gained outside formal education and training
Limited quality assurance and relevance of TVET qualifications.

The NVQF is being developed to standardize explicitly the outcomes of TVET in Nepal, and increase the quality and marketability of the TVET graduates. A shared and common characteristic of these developments is the need to make the meaning of qualifications more transparent and explicit. The expectation is that this will make it easier for all the stakeholders (especially employers and students) in the field of TVET to identify the nature and level of qualifications, to compare them and to identify more easily their articulation possibilities, both within and across national boundaries.

Implementation of a NVQF system is also a transition from a traditional supply-driven TVET system to an entrepreneurial/innovative demand led TVET system VQF have been described as fulfilling a number of purposes. Broadly, these purposes can be classified under the following three main headings:


Equivalency and linkages;
Quality control; and
Coherence and coverage

Figure 2: Transition Framework of Nepal's Traditional TVET System, to an Innovative/Entrepreneurial TVET System for Quality and Effectiveness
Note. Figure from National Vocational Qualifications and Certifications System of Nepal, by Shrestha. Retrieved from National Vocational Qualification Systems of CPSC Member Countries 2017, CPSC.



Figure 3. Purpose of Vocational Qualifications Systems
Note. Figure from National Vocational Qualifications and Certifications System of Nepal, by Shrestha. Retrieved from National Vocational Qualification Systems of CPSC Member Countries 2017, CPSC.
Levels of NVQS
The NSTB has developed the National Occupational Skill Standards/Profiles in 237 different occupations, wherein 108000 crafts persons are skill tested and 72730 are certified.

A skill test is the corresponding performance test based on the occupational skill standard which must be demonstrated by every individual to obtain a "NATIONAL SKILL CERTIFICATE" indicating that the certificate holder meets the requirements of a trade/occupation.

Skill Test Prerequisites:

The requirements to participate in the skill test are as follows:


Nepalese Citizenship Card
Four numbers of passport size and one auto size photos
Age 16 years or above

Skill Test Level
Criteria for Completion
Skill Test Level - Elementary

Successful completion of 140 hours vocational training in relevant occupation/trade.

Skill Test Level - 1

Literate with knowledge and skill in the relevant occupation with minimum of one year work experience in a related occupation/trade; or
Successful completion of one month (160 hours) vocational training in relevant occupation/trade; or
Vocational training with six months work experience in the relevant occupation/trade.

Skill Test Level - 2

Literate with knowledge and skill in the relevant occupation with minimum of three years work experience in a relevant occupation/trade; or
One year training (minimum 600 hours theory and 800 hours practical) in relevant occupation/trade; or
One year's work experience after the level-1 ST certificate passed in relevant occupation/trade.

Skill Test Level - 3

Literate with knowledge and skill in the relevant occupation with minimum of five years work experience in a relevant occupation/trade; or
Two years work experience after one year training in a relevant occupation/trade; or
One years work experience after skill level-2 certificate passed in relevant occupation/trade.

Skill Test Level - 4 (For Ophthalmic Assistant)

Ophthalmic Assistant, Level-3 passed with three year experience and one year training; or
Certificate level in Health Science (Ophthalmology) equivalent passed with three years experience and one year training.

TVET Financing
TVET financing in Nepal can be be viewed to coming from informal and formal sources. Informal sources include contributions from individual, households, unorganized firms/NGOs as well as community sources. They are classified as informal since it is difficult to estimate the spending from these sources as there no mechanism in place to record them, and they therefore remain outside the national account system. Formal sources of funding include the support from the government (including donor support) and other organized institutions including local bodies, semi-autonomous agencies, I/NGOs, and private agencies.

Table 1. Allocation of Public Resources to TVET by Years


Note. Reprinted from Rhetoric of Developing Technical and Vocational Education and Training (TVET) in Nepal: Analysis of the Financing of the Sub-Sector, by Parajuli. Retrieved from Technical and Vocational Education and Training Development Journal

Table 2. Share of Foreign Aid in TVET Programs


Note. Reprinted from Rhetoric of Developing Technical and Vocational Education and Training (TVET) in Nepal: Analysis of the Financing of the Sub-Sector, by Parajuli. Retrieved from Technical and Vocational Education and Training Development Journal
References:
NSTB. (2017). Retrieved October 1, 2018, from http://ctevt.org.np/page.php?pagecat=7
Nuffic. (2014). Education system Nepal. The Nepalese Education System Described and Compared with the Dutch System. Retrieved October 1, 2018
Parajuli, M. N. (2013). Rhetoric of developing technical and vocational education and training (TVET) in Nepal: Analysis of the financing of the sub-sector. Technical and Vocational Education and Training Development Journal, 13(1), 58-68.
Shrestha, P. B. (2017) National Vocational Qualifications and Certifications System of Nepal. In National Vocational Qualification Systems of CPSC Member Countries (pp. 25-29). Manila: CPSC. doi:978-971-8557-98-3

| | |
| --- | --- |
| GDP (billions) | $21.154 billion (Nominal: 107th, 2015 est.) |
| GDP Per Capita | $805 (nominal; 2015) |
| Currency | Nepalese Rupee (NPR) = 100 Paisa |
| Major Exports | carpets, clothing, leather goods, jute goods, grain, herbs, tea, coffee, steel, cement business Processing Outsourcing, Software, Information Technology, Furniture, Cardamoms, garments |
| Major Imports | Petroleum Products, Gold, Machinery |
| Major Industries | Tourism, garment, food and beverages, metal manufactures, herbs |
| Major Export Partners | India 61.2%, United States 9.4% (2015) |
| Major Import Partners | China 42.2%, Thailand 18.5%, Singapore 11%, Japan 4.8% (2015 est.) |
| Foreign Exchange Reserves | $7, 946 Million (2015) |
| Inflation | 10.01% |
| Population below Poverty Line | 26% |
| Gini Coefficient | 32.8 (moderately equal) |
| Competitiveness Rank | 98th (out 0f 138) |
| Ease of Doing Business Rank | 107h (out of 190) |
| Employment Rate | 97% (2014, est.) |
| Unemployment Rate | 3% (2014, est.) |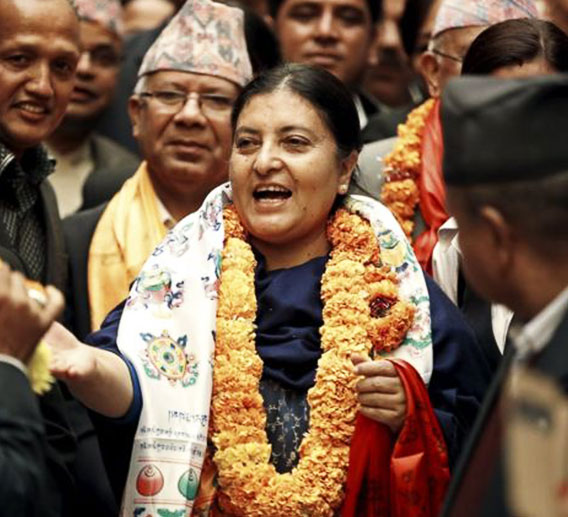 Bidhya Devi Bhandari (REUTERS/Navesh Chitrakar)
| | |
| --- | --- |
| Type of Government | Federal parliamentary republic |
| Head of State | Bidhya Devi Bhandari (President) |
| Head of Government | Pushpa Kamal Dahal (Prime Minister) |
| Legislating Body/Bodies | Legislature Parliament of Nepal |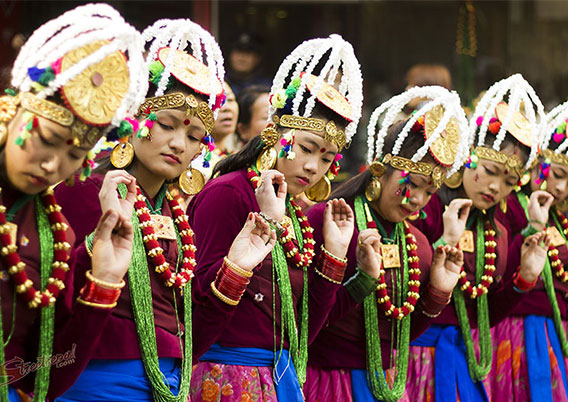 Image from https://trekroute.com
| | |
| --- | --- |
| Time zone | UTC +5:45 |
| Human Development Index | 0.548 (low, 145th out of 180) |
| Literacy Rate | 64.7% (men, 75.6%; women, 55.1%) |
| % of people with internet access | 17.58% (approx. 5,044,737) |
| Life Expectancy | 69.2 years (Males: 67.7, Females: 70.8) |
| Drives on the | Left |
| Calling code | +977 |
| ISO 3166 code | NP |
| Internet TLD | .np |