Band-e Amir National Park
Member Since 1973
Partner Ministry/Organization
National Skills Development Program, Ministry of Labor, Social Affairs, Martyrs and Disabled (MoLSAMD)
---
Recent Programs Held
2013: (1) Special In-Country Program on Champion Leaders Development Program for TVET Skills for Poverty Alleviation (Sep 28 - Oct 2); (2) Training Program on Persons with Disabilities (PWDs) for SCA-MoLSAMD, Government of Afghanistan (Aug)
---
2012: In-country Program on Academia - Industry Linkage in TVET Program in Afghanistan (Jul 2-6)
---
Official Name
Islamic Republic of Afghanistan
---
Land Area
652,864 km2 (252,072 sq mi) (41st)
---
Population
33,332,025 (40th)
---
Largest Cities
Kandahar (est. pop. 491,500)
Herat (est. pop. 436,300)
Mazar-i-Sharif (est. pop. 368,100)
Kunduz (est. pop. 304,600)
---
Country Borders
Pakistan (South and East)
Iran (West)
Turkmenistan, Uzbekistan and Tajikistan (North)
China (Far Northeast)
---
Major Languages
Pashto, Dari
---
Ethnic Groups
Pashtun, Tajiks, Hazara, Uzbeks, Aimaq, Turkmen, Baloch
---
Demonym
Afghans
---
National Holidays
19 August 1919 (Independence Day from the British)
---
Education Basic Facts
---
No. of Years of Primary Education
12
---
Major Universities
University of Kabul
---
Primary School Enrollment (Total)
10.5 Million (2014 estimate)
---
Tertiary School Enrollment (Total)
No data
---
Ministry/ Ministries Supervising Education
Ministry of Education/ Ministry of Higher Education
---
Education as % of GDP
4.7% (World Bank, 2012)
---
TVET
---
Agency Handling TVET
Ministry of Labour, Social Affairs, Martyrs and Disabled (MOLSAMD)
---
Formal TVET System (Source: UNESCO-UNEVOC)
According to a report on TVET issued by the Committee on Education and Skills Policy- CESP (2010) the provision of TVET is assured by the following establishments:
NGOs (comprising 30 000 students and assuring the provision of basic vocational skills);
Private sector (comprising 150 000 students and assuring the provision of vocational skills mainly in computer literacy, English, management and accounting); and
Public sector: the provision of TVET is assured by the following ministries: (1) The Ministry of Labour, Social Affairs, Martyrs and Disabled (MOLSAMD) oversees 20 training centres providing short-term courses for public sector employees; and (2) the Ministry of Education (MoE) coordinates and administers 140 public TVET High Schools and 70 public TVET Institutes while 40 private TVET Institutes are licensed and 120 others are in the process of being licensed. All of these institutions provide 2-year (Grade 13-14 = Associate Level Diploma), 3-Year (Grade 10-12 = Professional or Technical Baccalaureate) and 5-Year (Grade 10-14 = Professional or Technical Baccalaureate + Associate Level Diploma)
TVET Education comprises:
Agriculture, Livestock and Veterinary
Technical and Vocational
Business Education
Construction and Engineering
Fine and Arts
Special and Inclusive Education Sectors
---
Offers NVQS
Yes
---
Type of NVQS
The Afghan National Qualification Authority (ANQA) is a body responsible for the governance and management of the ANQF. It is an independent authority that is however accountable to the government.
The main objectives of ANQA are to:
Establish and maintain ANQF for the development, recognition and award of qualifications, based on knowledge, skills and competence acquired by learners;
Establish and promote the maintenance and improvement of the standards of further education and training awards in Higher education, TVET, general education, Islamic education and Basic education; and
Promote and facilitate access, transfer and progression within the national education system.
---
Levels of NVQS
8 qualification levels based on learning outcomes have been developed:
Level 1: Basic level
Level 2: Literacy and Basic Vocational Training Certificate
Level 3: Intermediate Education certificate/ Grade 9
Level 4: Advanced Certificate, High School/Grade 12
Level 5: Tertiary Education Grade 14 Diploma
Level 6: Higher Education Bachelor Degree
Level 7: Higher Education Master Degree
Level 8: Higher Education Ph.D. Degree
---
TVET Financing
Afghanistan Reconstruction Trust Fund (ARTF), the World Bank and other bilateral donor agencies.
---
TVET System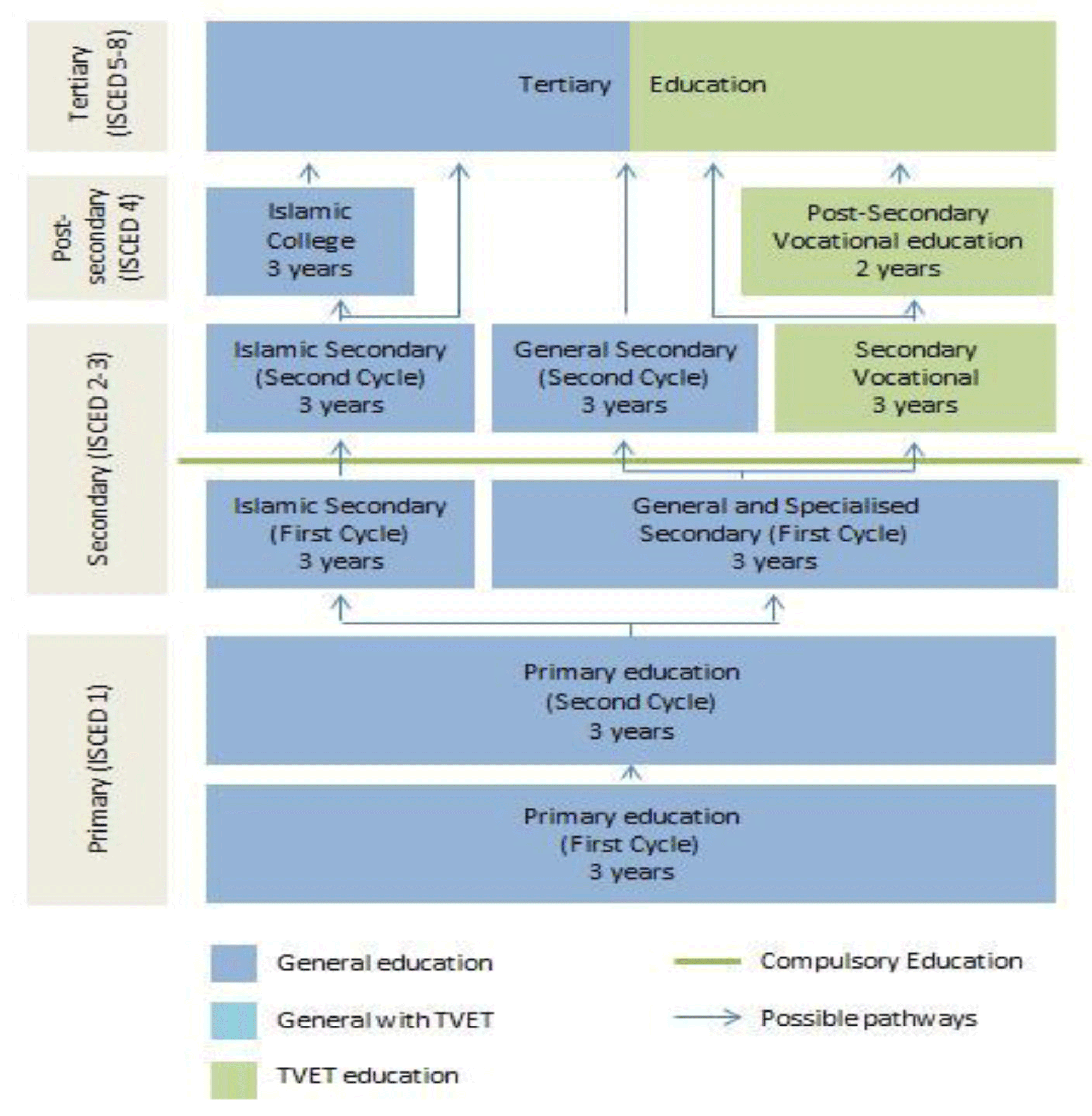 ---
Sources:
UNESCO-UNEVOC (2012). Afghanistan. Accessed on April 6, 2017 at http://www.unevoc.unesco.org/go.php?q=World+TVET+Database&lang=en&ct=AFG
Webpage of the Ministry of Labor, Social Affairs, Martyrs and the Disabled. Accessed on April 6, 2017 at http://molsamd.gov.af/en
GDP
$19.654 billion (2016 est.)
---
GDP Per Capita
$600 (2016 est.)
---
Currency
Afghan Afghani (AFN) = 100 pul
---
Major Exports
Opium, fruits and nuts, Afghan rugs, wool, cotton, hides and pelts, and gemstone
---
Major Imports
Machinery and other capital goods, food, textiles and petroleum products
---
Major Industries
Small-scale production of textiles, soap, furniture, shoes, fertilizer, apparel, food-products, non-alcoholic beverages, mineral water, cement; hand-woven carpets; natural gas, coal, copper
---
Major Export Partners
India (42.2%), Pakistan (28.9%), Tajikistan 7.6%
---
Major Import Partners
Pakistan (38.6%), India (8.9%), United States (8.3%), Turkmenistan (6.2%), China (6%), Kazakhstan (5.9%) Azerbaijan (4.9%)
---
Foreign Exchange Reserves
$6,232 Million (2015 est.)
---
Ease of Doing Business Rank
187 (out of 190)
---
Inflation
4.7%
---
Population below Poverty Line
35%
---
Competitiveness Rank
N/A
---
Employment Rate
98.8% (2008)
---
Unemployment Rate
1.2% (2008)
---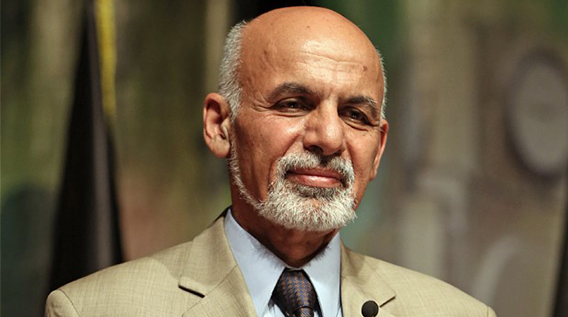 Ashraf Ghani
Type of Government
Unitary Presidential Islamic Republic
---
Head of State
Ashraf Ghani (President)
---
Head of Government
Abdullah Abdullah (Chief Executive Officer)
---
Legislating Body/Bodies
National Assembly
Upper house: House of Elders
Lower house: House of the People
---

Time zone
UTC +4:30
---
Human Development Index
0.465 (low, 171st out of 180)
---
Literacy Rate
28.1% (Males: 43.1%; females: 12.1%)
---
% of people with internet access
10% (approx. 2.6 Million)
---
Life Expectancy
Male: 58.20 years; Female: 57.30 years
---
Doctors per capita
11 physicians and 18 nurses per 100,000 population
---
Drives on the
Right
---
Calling code
+93
---
ISO 3166 code
AF
---
Internet TLD
.af
---