Band-e Amir National Park
Member Since 1973
Partner Ministry/Organization
National Skills Development Program, Ministry of Labor, Social Affairs, Martyrs and Disabled (MoLSAMD)
---
Recent Programs Held
2013: (1) Special In-Country Program on Champion Leaders Development Program for TVET Skills for Poverty Alleviation (Sep 28 - Oct 2); (2) Training Program on Persons with Disabilities (PWDs) for SCA-MoLSAMD, Government of Afghanistan (Aug)
---
2012: In-country Program on Academia - Industry Linkage in TVET Program in Afghanistan (Jul 2-6)
---
Official Name
Islamic Republic of Afghanistan
---
Land Area
652,864 km2 (252,072 sq mi) (41st)
---
Population
38,928,346 (37th)
---
Largest Cities
Kabul (est. pop. 3,043,532)
Kandahar (est. pop. 391,190)
Mazar-e Sharif (est. pop. 303,282)
Herat (est. pop. 272,806)
---
Country Borders
Pakistan (South and East)
Iran (West)
Turkmenistan, Uzbekistan and Tajikistan (North)
China (Far Northeast)
---
Major Languages
Pashto, Dari
---
Ethnic Groups
Pashtun, Tajiks, Hazara, Uzbeks, Aimaq, Turkmen, Baloch
---
Demonym
Afghans
---
National Holidays
19 August 1919 (Independence Day from the British)
---
---
Sources:
Worldometer. (2021). Countries in the world by population (2021) [Data set]. Retrieved December 19, 2021, from https://www.worldometers.info/world-population/population-by-country/
World Population Review. (2021). Population of Cities in Afghanistan (2021) [Data set]. Retrieved December 19, 2021, from https://worldpopulationreview.com/countries/cities/afghanistan
Education Basic Facts
---
No. of Years of Primary Education
12
---
Major Universities
University of Kabul
---
Primary School Enrollment (Total)
6,777,785 (2019)
---
Tertiary School Enrollment (Total)
4,080,275
---
Ministry/ Ministries Supervising Education
Ministry of Education/ Ministry of Higher Education
---
Education as % of GDP
10.3% (UNESCO, 2020)
---
TVET
---
Agency Handling TVET
Ministry of Labour, Social Affairs, Martyrs and Disabled (MOLSAMD)
---
TVET
(Source: Afghanistan National Peace and Development Plan II (ANPDF II) 2021 to 2025: Forging our Transformation, 2020)
The Technical and vocational education and training (TVET) strategy 2020 -2024 is developed to:
improve equitable access to technical and vocational education;
strengthen quality assurance and relevancy of TVET; and
reform the TVET management system.
Achievements under TVET:
73 vocational institute are established, 15 primary schools are upgraded to vocational institutes, competency assessment of 1031 of the TVET-A teachers and capacity assessment of the 4 Lead Institutes (NIMA, Nangarhar Agriculture and Veterinary Institute, Herat Technical Institute and Kabul Auto Mechanic Institute) are performed.
Currently, a total of 68,202 students are enrolled in a formal TVET institute in 160 districts across 34 provinces, and 42 public and 350 private Nonformal TVET institutes are operating across 34 provinces.
---
Offers NVQS
Yes
---
Type of NVQS
The Afghan National Qualification Authority (ANQA) is a body responsible for the governance and management of the ANQF. It is an independent authority that is however accountable to the government.
The main objectives of ANQA are to:
Establish and maintain ANQF for the development, recognition and award of qualifications, based on knowledge, skills and competence acquired by learners;
Establish and promote the maintenance and improvement of the standards of further education and training awards in Higher education, TVET, general education, Islamic education and Basic education; and
Promote and facilitate access, transfer and progression within the national education system.
---
Levels of NVQS
8 qualification levels based on learning outcomes have been developed:
Level 1: Basic level
Level 2: Literacy and Basic Vocational Training Certificate
Level 3: Intermediate Education certificate/ Grade 9
Level 4: Advanced Certificate, High School/Grade 12
Level 5: Tertiary Education Grade 14 Diploma
Level 6: Higher Education Bachelor Degree
Level 7: Higher Education Master Degree
Level 8: Higher Education Ph.D. Degree
---
TVET Financing
Afghanistan Reconstruction Trust Fund (ARTF), the World Bank and other bilateral donor agencies.
---
TVET System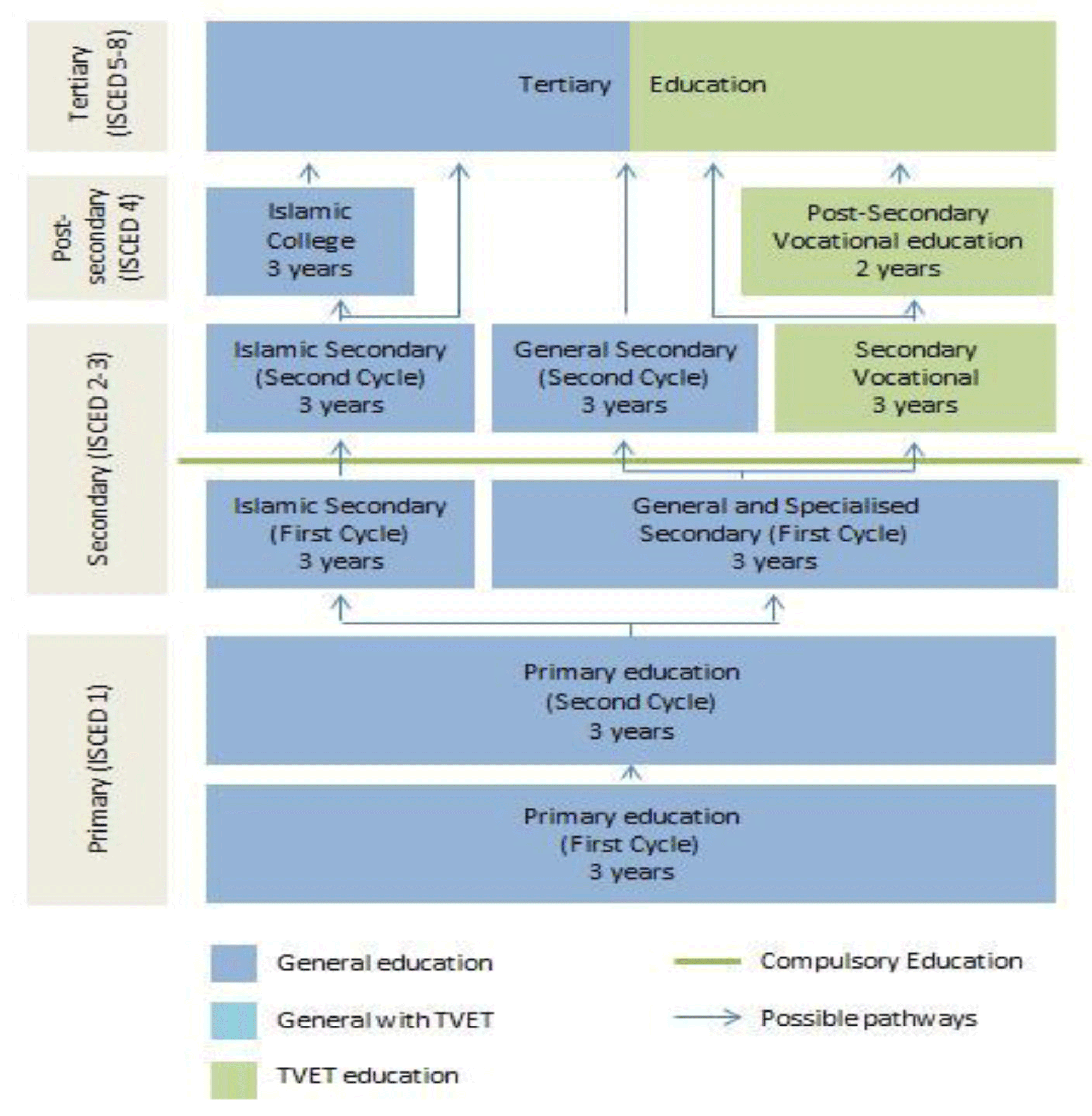 ---
Sources:
Ministry of Finance. (2020). Afghanistan National Peace and Development Plan II (ANPDF II) 2021 to 2025: Forging our Transformation. https://um.fi/documents/35732/0/ANPDF+II-+Final+Version-English.pdf/6a756141-92d9-f376-3f12-71337c199933?t=1606127398102
The World Bank. (2020). Afghanistan [Data set]. Retrieved December 19, 2021, from https://data.worldbank.org/country/afghanistan
UNESCO Institute of Statistics. (2020). Afghanistan [Data set]. Retrieved December 19, 2021, from http://uis.unesco.org/en/country/af
GDP
$20.116 billion (2020 est.)
---
GDP Per Capita
$493 (2018 est.) Source: International Monetary Fund
---
Currency
Afghan Afghani (AFN) = 100 pul
---
Major Exports
Gold (43.2% = $968M), Grapes (9.55% = $214M), Insect Resins (5.77% = $129M), Other Nuts (5.05% = $113M), and Tropical Fruits (4.35% = $97.4M)
---
Major Imports
Wheat Flours (6.3% = $436M), Broadcasting Equipment (4.86% = $336M), Refined Petroleum (4.69% = $325M), Rolled Tobacco (4.58% = $317M), and Aircraft Parts (3.85% = $266M)
---
Major Industries
Small-scale production of textiles, soap, furniture, shoes, fertilizer, apparel, food-products, non-alcoholic beverages, mineral water, cement; hand-woven carpets; natural gas, coal, copper
---
Major Export Partners
United Arab Emirates (23.4% = $1.62B), Pakistan (17.1% = $1.18B), India (12.9% = $891M), China (8.68% = $600M), and United States (8.61% = $596M)
---
Major Import Partners
Pakistan (38.6%), India (8.9%), United States (8.3%), Turkmenistan (6.2%), China (6%), Kazakhstan (5.9%) Azerbaijan (4.9%)
---
Foreign Exchange Reserves
$9.746 Billion (2020 est.)
---
Ease of Doing Business Rank
173 (out of 190) (2019)
---
Inflation
7.8% (2020)
---
Population below Poverty Line
47.3% (2020)
---
Competitiveness Rank
N/A
---
Employment Rate
41.54% (2020)
---
Unemployment Rate
11.7% (2020)
---
Sources:
Knoema. (2020). The employment rate in Afghanistan [Data set]. Retrieved December 19, 2021, from https://knoema.com/data/afghanistan+employment-rate
Observatory of Economic Complexity. (2019). Afghanistan (AFG) Exports, Imports, and Trade Partners [Data set]. Retrieved December 19, 2021, from https://oec.world/en/profile/country/afg
The World Bank. (2020). Ease of Doing Business Rankings [Data set]. Retrieved December 19, 2021, from https://www.doingbusiness.org/en/rankings
The World Bank. (2020). Afghanistan [Data set]. Retrieved December 19, 2021, from https://data.worldbank.org/country/afghanistan
The World Bank. (2020). Inflation, GDP deflator (annual %) - Afghanistan [Data set]. Retrieved December 19, 2021, from https://data.worldbank.org/indicator/NY.GDP.DEFL.KD.ZG?locations=AF&view=chart
The World Bank. (2020d). Total reserves (includes gold, current US$) - Afghanistan [Data set]. Retrieved December 19, 2021, from https://data.worldbank.org/indicator/FI.RES.TOTL.CD?locations=AF

Time zone
UTC +4:30
---
Human Development Index
0.511 (low, 169th out of 180)
---
Literacy Rate
31.4% of the total population (Male: 45.4%; Female: 17%) as of 2011
---
% of people with internet access
22.0% (approx. 8.64 million of the population) (2021)
---
Life Expectancy
Total: 64 years (Male: 63 years; Female: 66 years) (2019)
---
Doctors per capita
0.278 Physicians; and 0.446 nurses & midwives per 1,000 population
---
Drives on the
Right
---
Calling code
+93
---
ISO 3166 code
AF
---
Internet TLD
.af
---
Sources:
Kemp, S. (2021). Digital 2021: Afghanistan. In DataReportal – Global Digital Insights. Kepios. https://datareportal.com/reports/digital-2021-afghanistan
The World Bank. (2018). Physicians (per 1,000 people) - Afghanistan [Data set]. Retrieved December 19, 2021, from https://data.worldbank.org/indicator/SH.MED.PHYS.ZS?locations=AF
he World Bank. (2019). Afghanistan [Data set]. Retrieved December 19, 2021, from https://data.worldbank.org/country/afghanistan
ESCO Institute of Statistics. (2020). Afghanistan [Data set]. Retrieved December 19, 2021, from http://uis.unesco.org/en/country/af
nited Nations Development Programme. (2020). Human Development Report 2020: Afghanistan. http://hdr.undp.org/sites/default/files/Country-Profiles/AFG.pdf