Faisal Mosque (Urdu: فیصل مسجد‎)
Member Since 1973
Partner Ministry/Organization
National Vocational & Technical Training Commission (NATVTTC)
---
Recent Programs Held
2017: Skills for Youth Employability through Industry Linkages (Aug 28-31)
---
2016: International TVET Conference (Oct 3-4)
---
2015: In-Country Program on Developing Monitoring and Evaluation Tools in TVET (Mar 9-13)
---
2012: In-Country Program on Accreditation and Certification of TVET (Jun 25-29)
---
Address of Embassy/Consulate in Manila
6th Floor, Alexander House, 132 Amorsolo Street, Legaspi Village, Makati City, Philippines
---
Official Name
Islamic Republic of Pakistan
---
Land Area
881,913 km2 (340,509 sq mi) (33rd)
---
Population
225,199,937 (5th)
---
Capital
Islamabad (est. pop. 601,600)
---
Largest Cities
Karachi (est. pop. 11,624,219)
Lahore (est. pop. 6,310,888)
Faisalabad (est. pop. 2,506,595)
Rawalpindi (est. pop. 1,743,101)
---
Country Borders
India (east), Afghanistan (west), China (northeast), Iran (southwest)
---
Religion/s
Islam
---
Major Languages
English, Urdu, Punjabi, Sindhi, Pashto, Saraiki, Balochi, Kashmiri, Brahui, Shina, Balti, Khowar, Burushaski Yidgha, Dameli, Kalasha, Gawar-Bati, Domaaki
---
Demonym
Pakistani
---
National Holidays
14 August 1947 (Independence from the United Kingdom; Partition of India)
---
Education Basic Facts
---
No. of Years of Primary Education
8
---
Major Universities
National University of Sciences and Technology (NUST), Quaid-i-Azam University, Lahore University of Management Sciences (LUMS), University of Engineering & Technology (UET) Lahore, University of Karachi.
---
Primary School Enrollment (Total)
95.48% (UNESCO, 2019)
---
Tertiary School Enrollment (Total)
12.2% (UNESCO, 2019)
---
Ministry/ Ministries Supervising Education
Ministry of Education
---
Education as % of GDP
2.5 % (UNESCO, 2019)
---
TVET
---
Agency Handling TVET
National Vocational and Technical Training Commission (NAVTTC)
---
TVET System of Pakistan
The Constitution of Pakistan mandates that all children between ages 5 and 16 are provided free and compulsory education to enhance adult literacy. 260,903 institutes constitute the education system of Pakistan, facilitating 41,018,384 students with the help of 1,535,461 teachers. Hence 31% educational institutes are run by private sector while 69% are public institutes (Ipripak, 2015).
Vocational Education is administered by the Pakistani Technical Education and Vocational Training Authority. The TVET system of Pakistan produces around 315,000 graduates annually, contributing to 5.5% of the almost 60 million large labour force (2016). The remainder usually contribute to workers in the informal sector (about 74% of the total labour force), which is unregulated and features poor remuneration.
The Pakistan's National Vocational Qualification Framework (NVQF) is responsible for bridging this formal-informal gap divide and allowing the recognition and certification of skills through Recognition of Prior Learning (RPL) and Recognition of Current Competence (RCC). In order to improve the TVET system in Pakistan, the National Vocational & Technical Training Commission (NAVTTC) was established as an apex body and a national regulatory authority for TVET. It has taken the responsibility of addressing the challenges of Technical and Vocational stream in the country and was also involved in policy making, strategy formulation, regulation, and revamping of TVET system. The commission also promotes linkages among various stakeholders at national as well as International level.
Table 1: Enrolment in Technical and Vocational Institutions by Province, type and Gender (Public & Private, 2015-16)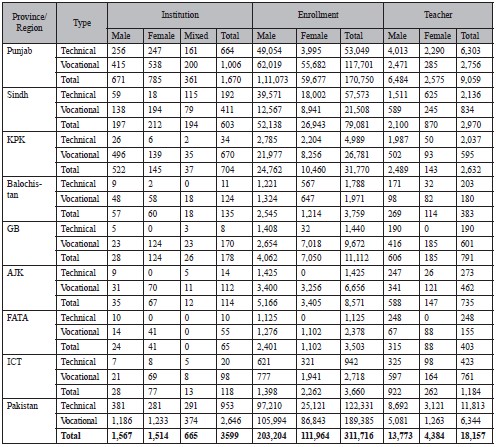 Note. Reprinted from National Vocational Qualification Framework and Certification of Pakistan, by Soomro. Retrieved from National Vocational Qualification Systems of CPSC Member Countries 2017, CPSC.
---
Qualification Framework
The National Skills Strategy 2009-2013 (NSS) recommended the migration to competency based training from curriculum based training to equip graduates with relevant skills for the industry and thus improve their employability whilst providing the industry with quality human resources.
The NVQF is intended to provide a distinct pathway for Technical and Vocational Education and Training within the overall national qualification structure. NVQF pre-vocational levels were designed to meet the basic TVET entry needs of the majority of the population with the little or no schooling, and five levels (Level 1 to 5 from certificate to diploma) to provide a clear pathway in TVET and entry into Higher Education degree levels.
The NVQF also defines the skills required for a qualification and determines the equivalence within TVET Sector, allows standardized vocational qualification, provides framework for quality assurance, vertical and horizontal progression for learners, recognition of national and international qualification systems, improvement in quality of training, and increased options for learners in selecting training programs.
---
Levels of NVQS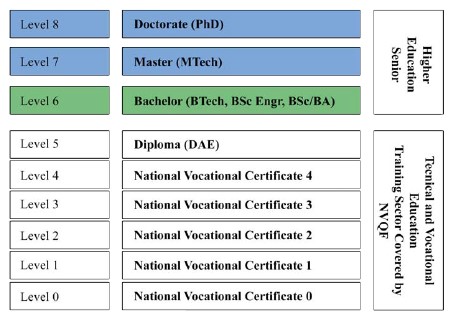 Figure 1. Structure of NVQF in Pakistan
Note. Figure from National Vocational Qualification Framework and Certification of Pakistan, by Soomro. Retrieved from National Vocational Qualification Systems of CPSC Member Countries 2017, CPSC.
Each level of qualification framework is defined by a set of approved Level Descriptors (Copy enclosed). NVQF is the point of active guidance and integration of five interacting systems which, if properly coordinated ensures the achievement of the NVQF purposes- the qualification development system, the assessment delivery system, the training delivery system, the national skill certification system and national quality assurance system.
---
TVET Financing
TVET in Pakistan is funded almost wholly through budget allocations. As additional funding sources are required to satisfy needs, the NSS has proposed the introduction of a training levy paid by employers to offset the shortcomings in public budget.
The quest to achieve and implement a successful TVET framework cannot be achieved without sufficient funding. Historically, emphasis has been placed on general education rather than TVET, and accordingly, funding for skills development has been low. Recently however, provincial and national budget allocations have risen steadily.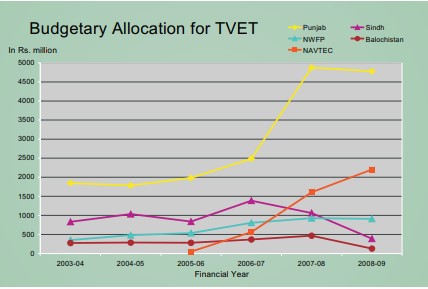 Figure 2. Budget Allocation for TVET in Pakistan
Note. Figure from World TVET Database Pakistan, by UNESCO. Retrieved from https://unevoc.unesco.org/wtdb/worldtvetdatabase_pak_en.pdf
Challenges in Financing TVET
In spite of the rising levels of investment in TVET, Pakistan's investment in TVET remains low – both by international standards and in terms of the challenges that the country must address. Additionally, public funding is allocated primarily towards public TVET institutions, and private institutions have to seek alternative, less viable methods of funding. This raises a fundamental issue about how to secure additional resources to expand and improve the quality of skills development programmes. NAVTTEC works with TEVTAs to mobilise new financial resources through ways of involving the private sector and encouraging TVET institutions to introduce revenue-generating activities.
---
References:
Education System in Pakistan. (n.d.). Retrieved October 3, 2018, from https://www.scholaro.com/ed/Countries/Pakistan/Education-System
Hussain, A. (2015, March 2). Education System of Pakistan: Issues, Problems and Solutions. Retrieved October 3, 2018, from http://www.ipripak.org/education-system-of-pakistan-issues-problems-and-solutions/
Soomro, F.A. (2017). National Vocational Qualification Framework and Certification of Pakistan. In National Vocational Qualification Systems of CPSC Member Countries(pp. 127-140). Manila: CPSC. doi:978-971-8557-98-3
Skills for Growth & Development A Draft National Technical and Vocational Education and Training (TVET) Policy. (2014, November). Retrieved October 3, 2018, from http://www.moent.gov.pk/mopttm/userfiles1/file/Final Consult Paper of TEVT Policy.pdf
World TVET Database Pakistan. (n.d.). Retrieved November, 2013, from https://unevoc.unesco.org/wtdb/worldtvetdatabase_pak_en.pdf
---
GDP
$262,610,002.94 (2020)
---
GDP Per Capita
$1,188.9 (2020)
---
Currency
Pakistan Rupee (PKR) = 100 paisa/rupayya
---
Major Exports
House Linens (13.2% = $3.52B), Rice (8.46% = $2.25B), Non-Knit Men's Suits (6.44% = $1.71B), Non-Retail Pure Cotton Yarn (3.58% = $992M), and Non-Knit Women's Suits (3.58% = $951M)
---
Major Imports
Refined Petroleum (8.9% = $4.7B), Crude Petroleum (6.23% = $3.29B), Petroleum Gas (6.14% = $3.24B), Palm Oil (3.14% = $1.66B), and Scrap Iron (2.7% = $1.43B)
---
Major Industries
Textiles and apparel, food processing, pharmaceuticals, construction materials, chemicals
---
Major Export Partners
United States (14.4% = $3.82B), China (7.75% = $2.06B), Germany (6.71% = $1.78B), United Kingdom (6.13% = $1.63B), and Afghanistan (4.44% = $1.18B)
---
Major Import Partners
China (27.9% = $14.7B), United Arab Emirates (11.2% = $5.93B), United States (4.91% = $2.59B), Saudi Arabia (4.22% = $2.23B), and Indonesia (3.93% = $2.08B)
---
Foreign Exchange Reserves
$18,521,734.36 (2020)
---
Ease of Doing Business Rank
108th (out of 190) (2019)
---
Inflation
10.1%
---
Population below Poverty Line
21.9% (2018)
---
Gini Coefficient
31.6 (2018)
---
Competitiveness Rank
100th (out of 140)
---
Employment Rate
47.91% (2020)
---
Unemployment Rate
4.5% (2020)
---
Arif Alvi (https://whenwherehow.pk/2020/05/12/president-arif-alvi-constitutes-10th-nfc/)
Type of Government
Federal parliamentary constitutional republic
---
Head of State
Arif Alvi (President)
---
Head of Government
Imran Khan (Prime Minister)
---
Legislating Body/Bodies
Parliament
Upper House: Senate
Lower house: National Assembly
---
Time zone
UTC +5:00
---
Human Development Index
0.557 (md, 154th out of 189) (2019)
---
Literacy Rate
58% of the total population (Male: 69.3%; Female: 46.5%) as of 2019
---
% of people with internet access
27.5% (approx. 61.34 million of the population) (Kemp, 2021)
---
Life Expectancy
Total: 67 years (Male: 66 years; Female: 68 years) (2019)
---
Doctors per Capita
1.1 Physicians; and 0.5 nurses & midwives per 1,000 population (2019)
---
Drives on the
Left
---
Calling code
+92
---
ISO 3166 code
PK
---
Internet TLD
.pk
---