Member Since 1973
Partner Ministry/Organization
Department of Polytechnic Education (DPE), Ministry of Higher Education (MoHE)
---
Recent Programs Held
2019: In-Country Program on Redesigning Teaching and Learning Practices towards IR 4.0. (Mar 25-29)
---
2018: In-Country Program on Quality Assurance in TVET through APACC Accreditation (Apr 23–27)
---
2017: (1) In-Country Program on Creating a Culture of Quality and Excellence in TVET through Regional Accreditation (Apr 17-21); (2) Regional Program on TVET as a Catalyst to Facilitate Technopreneurship (Oct 7-11)
---
2016: In-Country Program on Quality Assurance in TVET through APACC Accreditation (Apr 25-29)
---
2015: Joint Training Program on Automotive (Vehicle Electrical, Engine Management System and Introduction to Hybrid Technology) Course (Mar 31 to Apr 17)
---
2014: (1) Regional Program on Quality Assurance through International Accreditation in Malaysia (Nov 4-5); (2) In-Country Program on Integrating Sustainable Development to TVET (Aug 18-22)
---
2013: In-Country Program on Public-Private Partnership- the New Dimension of Industry-Institution linkages (Nov 24-28)
---
Address of Embassy/Consulate in Manila
107 Tordesillas Street, Salcedo Village, Makati City, Philippines
---
Official Name
Malaysia
---
Land Area
330,803 km2 (127,724 sq mi) (66th)
---
Population
32,776,194 (45th)
---
Capital
Kuala Lumpur (est. pop. 1,453,975)
---
Largest Cities
Kota Bharu (est. pop. 1,459,994)
Klang (est. pop. 879,867)
Kampung Baru Subang (est. pop. 833,571)
Johor Bahru (est. pop. 802,489)
---
Country Borders
Thailand (North) Singapore, Indonesia (South), Brunei (East)
---
Religion/s
Islam, Buddhism Hinduism, Christianity
---
Major Languages
Bahasa Malaysia
---
Demonym
Malaysians
---
National Holidays
31 August 1957 (Independence Day from Britain, Formation of the Federation of Malaya)
---
Education Basic Facts
---
No. of Years of Primary Education
11
---
Major Universities
Universiti Malaya, Universiti Kebangsaan Malaysia, Universiti Putra Malaysia, Universiti Sains Malaysia, Universiti Teknologi Malaysia, Universiti Teknologi Petronas, Universiti Utara Malaysia
---
Primary School Enrollment (Total)
104.38% (UNESCO, 2019)
---
Tertiary School Enrollment (Total)
43.1% (UNESCO, 2019)
---
Ministry/ Ministries Supervising Education
Ministry of Education, Ministry of Higher Education
---
Education as % of GDP
4.2 % (UNESCO, 2019)
---
TVET
---
Agency Handling TVET
Ministry of Higher Education, Ministry of Education, Ministry of Human Resources, Department of Polytechnic and Community College Education
---
Formal and non formal TVET System
Per the Education Act of 1996, education from the primary level through to the post secondary level is provided for Malaysians. Also included are teacher, special, religious, private, and technical education programmes.
The MOE has strengthened TVET within the secondary school level so that students at the Sijil Kemahiran Malaysia (SKM) level will also possess these skills, even if they did not perform well in the Sijil Pelajaran Malaysia (SPM) examination. Aside from the addition of 22 vocational subjects to national secondary schools, the MOE has enhanced the technical and vocational curriculum and boosted ties with the industry by attracting more enrollees into the vocational courses offered in technical secondary schools through campaigns and initiatives ,such as the Kuala Lumpur Declaration, to improve the perception of TVET. Further plans are in place to strengthen TVET lower down the educational levels, going as far down as upper-primary levels.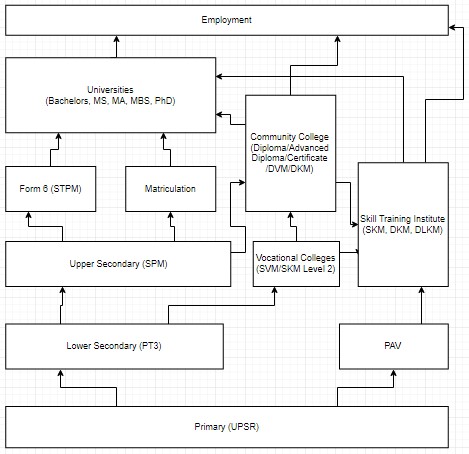 Figure 1. Malaysian Education Pathways
Note. Figure adapted from Study Malaysia. Retrieved from https://www.studymalaysia.com/education/top-stories/technical-and-vocational-education-and-training-in-malaysia
School leavers can venture into:
Skills sector
Vocational/Technical sector
Higher Education sector
All three avenues are open to those who have completed SPM, and may acquire TVET qualification from providers in all three sectors, with qualifications ranging from certificate to bachelor's degree levels, awarded by the Department for Skills Development or the MOHR.
UPSR (Standard 6) leavers may undertake PAV, followed by vocational colleges and training institutes. The qualifications offered include certificate, diploma, Diploma Vokasional Malaysia (DVM), advanced diploma, and bachelor's degree (vocational education).
Those who have completed SPM (upper secondary) can enroll at MOHE's Kolej Komuniti, polytechnics or MTUN (Malaysia Technical University Network) for vocational education to pursue certificate, diploma and advanced diploma qualifications. The STPM/Matriculation school leavers and Diploma holders can advance to MTUN's bachelor's degree qualifications.
Outside the formal sector, the Ministry of Human Resources (MOHR), has been driving the training sector with the introduction of 14 industrial training institutes (ITIs), with the objective of increasing the pool of Knowledge workers (K-workers), who would possess technical, social, and learning competence through apprenticeship programmes in various key industrial skills.
---
Types of NVQS
Malaysian Qualifications Agency (MQA) Accredited:
Universities under MOHE
Polytechnics
Community Colleges
Other academic and vocational education institutes
Department of Skills Development (Ministry of Human Resources) Accredited:
---
Levels of NVQS
There are five levels of skills qualifications as defined by the National Skills Qualification Framework, as shown below.
Table 1. Definition of Skills Qualification Level 1 to 5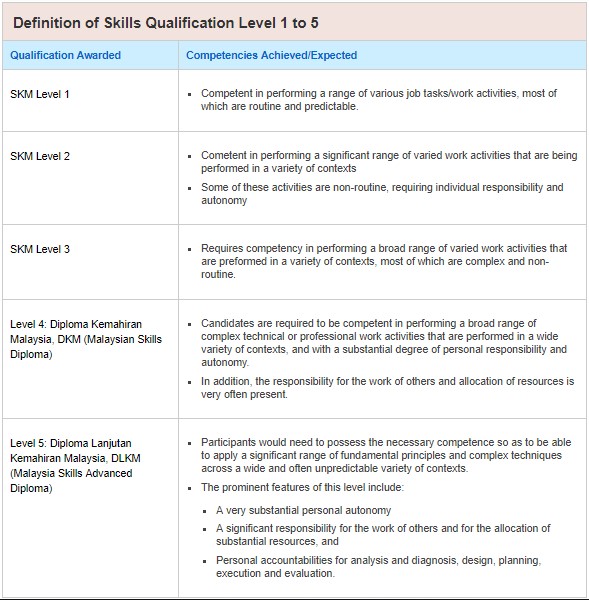 Note. Reprinted from Study Malaysia. Retrieved from https://www.studymalaysia.com/education/top-stories/technical-and-vocational-education-and-training-in-malaysia
---
TVET Financing
Double Deduction Incentive for Training (DDIT) and Human Resource Development Fund (HRDF)
---
TVET System
The Malaysian Government has pushed for reforms to TVET in the country.
Human Resources Minister M Kula Segaran was quoted as saying "There are about seven Ministries which are involved in TVET training. There must be a stop to the overlapping of the various TVET [functions] in the country, in which we spend nearly RM4.5 billion yearly. There is also the issue of the under-utilisation of the TVET function, as there is a 30% vacancy in most TVET [institutions]."
Kula Segaran said his Ministry, which has the most TVETs in the country, will assist Nurul Izzah, the TVET Taskforce Chairperson and PKR Vice-President, in the reform process.
---
References:
Technical and vocational education and training (TVET) in Malaysia. (2016, October 12). Retrieved August 13, 2018, from https://www.studymalaysia.com/education/top-stories/technical-and-vocational-education-and-training-in-malaysia
Surendran, S. (2018, June 25). Government steps up efforts to reform TVET in Malaysia. Retrieved August 13, 2018, from http://www.theedgemarkets.com/article/government-steps-efforts-reform-tvet-malaysia
Children Statistics, Malaysia, 2017. (2017, November 15). Retrieved August 13, 2018, from https://www.dosm.gov.my/v1/index.php?r=column/cthemeByCat&cat=333&bul_id=WGlmVnppZ2J6b2hGZHFQMmxWQ2UwUT09&menu_id=U3VPMldoYUxzVzFaYmNkWXZteGduZz09
GDP
$337,006,066.37 (2020)
---
GDP Per Capita
$10,412.3 (2020)
---
Currency
Malaysian Ringgit (MYR) = 100 Sen
---
Major Exports
Integrated Circuits (23.1% = $63B), Refined Petroleum (6.5% = $17.8B), Petroleum Gas (4.21% = $11.5B), Semiconductor Devices (3.53% = $9.65B), and Palm Oil (3.26% = $8.91B)
---
Major Imports
Integrated Circuits (13.2% = $27.4B), Refined Petroleum (8.77% = $18.1B), Crude Petroleum (3.37% = $6.97B), Broadcasting Equipment (1.88% = $3.88B), and Coal Briquettes (1.57% = $3.24B)
---
Major Industries
Electronics, Rubber and Palm oil processing, Pharmaceuticals, Medical technology, Smelting, Logging, Timber processing, Petroleum production, Petroleum refining
---
Major Export Partners
Singapore (13.3% = $36.2B), China (13.3% = $36.2B), United States (11.3% = $30.7B), Hong Kong (6.3% = $17.2B), and Japan (5.97% = $16.3B)
---
Major Import Partners
China (23.9% = $49.4B), Singapore (13.6% = $28.2B), Japan (6.28% = $13B), United States (6.2% = $12.8B), and Chinese Taipei (5% = $10.3B)
---
Foreign Exchange Reserves
$107.644 billion (2020)
---
Ease of Doing Business Rank
12th (out of 190) (2019)
---
Inflation
-0.8%
---
Population below Poverty Line
8.4 % (2019)
---
Gini Coefficient
41.1 (2015)
---
Competitiveness Rank
27th
---
Employment Rate
61% (2020)
---
Unemployment Rate
4.5% (2020)
---
Type of Government
Federal parliamentary elective constitutional monarchy
---
Head of State
Abdullah of Pahang (Yang di-Pertuan Agong)
---
Head of Government
Ismail Sabri Yaakob (Prime Minister)
---
Legislating Body/Bodies
Parliament of Malaysia
Upper House: Dewan Negara
Lower House: Dewan Rakyat
---
Time zone
UTC + 8:00
---
Human Development Index
0.810 (very high, 62nd out of 189) (2019)
---
Literacy Rate
95% of the total population (Male: 96.2%; Female: 93.6%) as of 2019
---
% of people with internet access
84.2% (approx. 27.43 million of the population) (Kemp, 2021)
---
Life Expectancy
Total: 76 years (Male: 74 years; Female: 78 years) (2019)
---
Doctors per capita
1.53 Physicians per 1,000 population (2015); and 3.48 nurses & midwives per 1,000 population (2019)
---
Drives on the
Left
---
Calling code
+60
---
ISO 3166 code
MY
---
Internet TLD
.my
---