Member Since 1973
Partner Ministry/Organization
State Ministry of Skills Development, Vocational Education, Research & Innovation
---
Recent Programs Held
2019: Development of Curriculum Integrating Technopreneurship (Jun 17-21)
---
2018: In-Country Program on Organizational Strengthening through Strategic Direction (Jun 18-22)
---
2017: In-Country Program on Strengthening of TVET Systems: Linkages with the Industries (May 22-26)
---
2016: (1) In-Country Program on Image Building in TVET (Jun 13-17); (2) Study Tour of Senior Officials of Institute of Technology University of Moratuwa and Ministry of Higher Education and Highways, Sri Lanka (Jun 5–8); (3) Study Visit of Officials from Ministry of Education (MoE), Sri Lanka to Malaysia on Technical Education and Vocational Training (Sep 19–23)
---
2015: In-Country Program on Institutional Management (Dec 15-19)
---
2013: In-Country Program on Total Quality Management (Dec 2-6)
---
2012: In-Country program on Training Needs Analysis (Dec 10-14)
---
2011: (1) Special In-Country Program on Champion Leaders' Development Program for TVET Skills for Poverty Alleviation (Mar 28 - Apr 2); (2) In-Country Program on Research and Development (Dec 19-23)
---
Address of Embassy/Consulate in Manila
Embassy of the Democratic Socialist Republic of Sri Lanka
7th Floor G.C. Corporate Plaza Bldg. No. 150 Legaspi St. Legaspi Village Makati City Philippines
---
Official Name
Democratic Socialist Republic of Sri Lanka
---
Land Area
65,610 km2 (25,330 sq mi) (122nd)
---
Population
21,497,310 (58th)
---
Capital
Sri Jayawardenepura Kotte (est. pop. 115,826)
---
Largest Cities
Colombo (est. pop. 648,034)
Dehiwala-Mount Lavinia (est. pop. 219,827)
Moratuwa (est. pop. 185,031)
Jaffna (est. pop. 169,102)
---
Country Borders
India (north)
---
Religion/s
Buddhism, Hinduism, Islam, Christianity
---
Major Languages
Sinhalese, Tamil
---
Demonym
Sri Lankan
---
National Holidays
4 February 1948 (separation from the United Kingdom)
---
Education Basic Facts
---
No. of Years of Basic Education
11 years
---
Major Universities
University of Colombo
University of Kelaniya
University of Moratuwa
University of Ruhuna
University of Sri Jayewardenepura
University of Jaffna
Rajarata University
General Sir John Kotelawala Defense University
Eastern University of Sri Lanka
Sabaragamuwa University
Wayamba University of Sri Lanka
Uva Wellassa University
South Eastern University of Sri Lanka
Open University of Sri Lanka
---
Primary School Enrollment (Total)
100.23% (UNESCO, 2019)
---
Tertiary School Enrollment (Total)
21.6% (UNESCO, 2020)
---
Ministry/ Ministries Supervising Education
Ministry of Education
---
Education as % of GDP
2.1 % (UNESCO, 2018)
---
TVET
---
Agency Handling TVET
State Ministry of Skills Development, Vocational Education, Research & Innovation
---
TVET System of Sri Lanka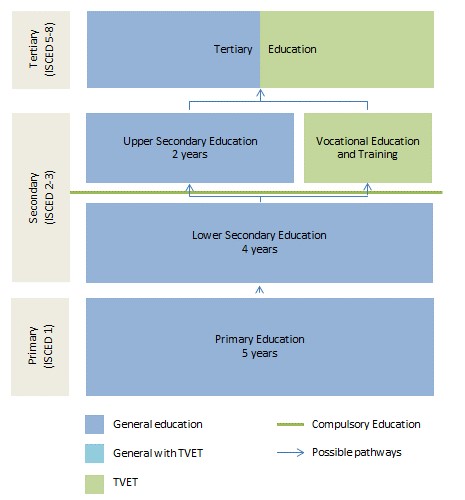 Figure 1
Primary education starts at the age of five and lasts for five years. It is divided into five grades and finishes with the Grade 5 Scholarship and Placement Examination. Secondary education consists of two levels – junior secondary and senior secondary levels. Junior secondary level (grades 6-9) lasts four years while the senior secondary level (grades 10-11) lasts two years. At the end of secondary education, students sit the General Certificate of Education (GCE) Ordinary-level examination which gives access to one to two-year programmes at technical colleges and finishes with a vocational diploma. The GCE examination is followed by the last stage of formal education – the collegiate level – which lasts two years and leads to the GCE Advanced-level examination. Primary education is compulsory. After passing the GCE Advance level examination, students can continue with higher education at universities and national colleges of education or TVET institutions. Bachelor's degrees usually take three to four years, master's degrees take two years and doctoral degree programmes take three to five years.
Formal TVET system;
The Formal TVET sector of Sri Lanka comprises 348 public sector training centers and about 670 active private and Non-Governmental Organization (NGO) training centers.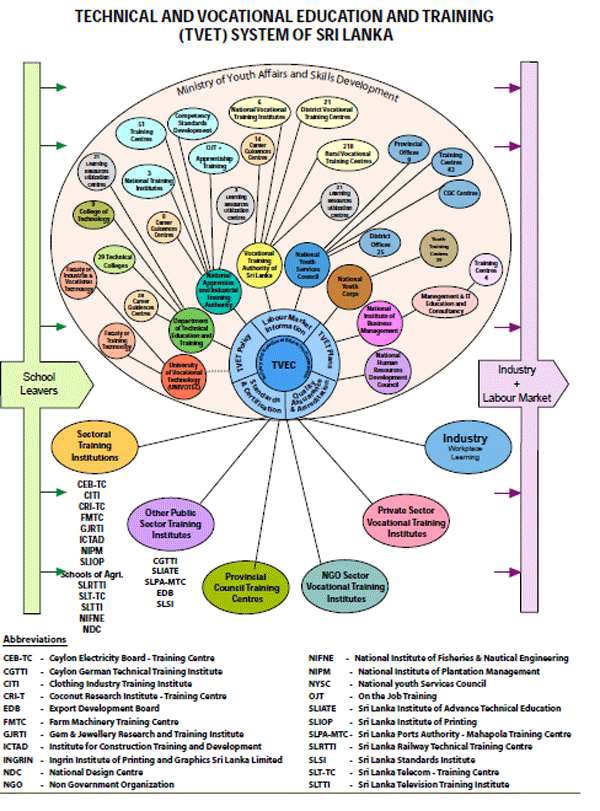 Figure 2. TVET System of Sri Lanka

Note. Figure reprinted from National Vocational Qualifications and Certifications System of Sri Lanka, by Ranjith. Retrieved from National Vocational Qualification Systems of CPSC Member Countries 2017, CPSC.
Non-formal and informal TVET systems;
A large number of non-formal TVET in Sri Lanka focuses on IT and is offered on a fee-levying basis. Nevertheless, there is a widespread network of non-fee levying institutions which are funded through national and international charities.
The National Vocational Qualifications Framework of Sri Lanka (NQVSL) recognizes competencies acquired through informal learning such as:
Workplace experiences;
Life experiences;
Self-directed study;
Informal uncertificated learning;
Formal uncertificated learning;
Informal undocumented study;
In-service training;
Distance education or open learning;
Community-based learning; and
Overseas education, training or experiences.
Competencies are assessed through Recognition of Prior Learning" (RPL) against NVQSL before candidates are awarded a National Vocational Qualifications (NVQ) certificate at the appropriate level.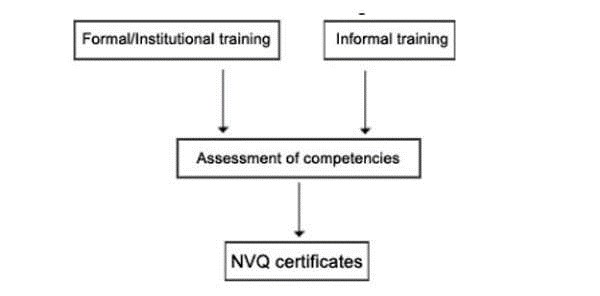 Figure 2. TVET System of Sri Lanka

---
Qualification Framework
The National Vocational Qualifications Framework of Sri Lanka (NVQSL) is the key in unifying technical and vocational education and training. Its aim is to ensure that existing and new TVET activities are coordinated. The National Competency Standards (NCS) are prepared in consultation with the industry and curricula, trainer guides, trainee guides and assessment resources are prepared based on the NCS. A competency standard is a document defining competency units pertaining to skills, standards and activities related to acquiring relevant knowledge, competencies and attitudes. Competency units are identified based on industry requirements in a particular occupation.
Assessments are competency-based and the system is benchmarked against qualification systems in developed countries. Competency-based training curricula and related training, learning and assessment materials are included in the framework, together with requirements for registration and accreditation of training providers and their courses.
An operational manual for NVQSL is compiled by the Tertiary and Vocational Education Commission (TVEC) with the assistance of the National Apprentice and Industrial Training Authority (NAITA), Vocational Training Authority (VTA), Department of Technical Education (DTET), National Youth Services Council (NYSC) and National Institute of Technical Education (NITESL). The manual outlines agreed policies and processes for implementation of all competencies as outline in NVQSL. NVQSL comprises of seven qualification levels. Each level describes the learning process and requirements as well as occupational responsibility involved.
---
Levels of NVQS
---
Level 1: NVQ 1 in Building Career Skills
Introduces students to soft skills that will facilitate employment. These include communication skills in English which is required by most employers, along with cognitive skills and social attitudes that will enable employees to work together with others whilst understanding systems and routines and applying relevant knowledge.
---
Level 2: NVQ 2 in Developing Career Skills And NVQ 2 in Basic competencies for particular professions
Develops Communication Skills in English and advanced cognitive skills, including time and task management, prioritization and organization. Basic work competencies develops an assistant worker able to function effectively under a qualified supervisor.
---
Level 3: NVQ 3, Certificate Introducing students to particular sectors And Competencies in a range of occupations for productive employability
Develops understanding of basic requirements for a career in particular fields with knowledge of fundamentals in such areas and positive attitudes for career development therein. Sector Skills Councils will work together with the TVEC to develop appropriate courses to encourage entry into each sector.
Competent worker able to fulfil routine tasks in specific fields and work efficiently under a qualified supervisor.
---
Level 4: NVQ 4, Certificate in particular occupations
Professional with competencies to work independently and as head of a team
---
Level 5: NVQ 5, National Diploma
Professional competent to work independently and take administrative decisions, and to supervise processes at middle management level.
---
Level 6: NVQ 6, Higher National Diploma
Professional with problem solving capacity who manages processes at middle management level.
---
Level 7: Bachelor Degree
Professional with capacity to manage processes in a particular field and with the flexibility to develop capacities in other areas of work.
---
Table 1. National Vocational Qualification Framework (NVQF) of Sri Lanka

Note. Table reprinted from National Vocational Qualifications and Certifications System of Sri Lanka, by Ranjith. Retrieved from National Vocational Qualification Systems of CPSC Member Countries 2017, CPSC.
Assessments are conducted by licensed assessors who are hired by accredited training centres where trainees take competency based training courses. Assessors examine trainees' progress reports, practical and theoretical examination results and other relevant documentation before they admit trainees to NVQ Assessments.
NVQ certificates can also be acquired without completing a competency-based course. The National Apprenticeship and Industrial Training Authority (NAITA) or any other NVQ-accredited public vocational training center can issue NVQ certificates through the Recognition of Prior Learning System (RPL). Candidates are assessed for their competencies before being awarded a NVQ certificate. Assessment includes inspection of supportive documents or, if no documents available, visits at the workplace to conduct practical tests. Tests can also be conducted at training centers if the workplace does not offer adequate conditions. In case of failure to demonstrate required skills and competencies, candidates will be informed about shortcomings and advised on possibilities to upgrade skills to be awarded a NVQ certificate.
---
TVET Financing
In Sri Lanka, the private sector is already burdened with heavy taxation which would make the imposition of a training levy difficult. However, marketable skills are most needed by the most underprivileged in society who cannot bear the cost of acquisition of TVET skills.
Therefore, a large proportion of education and training is provided free of charge, together with a daily allowance. Some public training institutions charge fees for high demand courses, such as computing, cosmetology, bakery etc.; and engage in training-related production to generate income. At present the state TVET sector depends heavily on treasury funds and a significant extent on donor/lender funding and interventions for development activities.
---
Employed Population & Employment Rates
Year
Employed Population
Employment Rates (% to Total Labor Force)
Male
Female
Total
Male
Female
Total
2015
5,097,798
2,733,178
7,830,976
97.0
92.4
95.3
2016
5,149,948
2,797,735
7,947,683
97.1
93.0
x95.6
---
References:
Asian Development Bank (2014). Innovative Strategies in Technical and Vocational Education and Training for Accelerated Human Resource Development in South Asia: Sri Lanka. Retrieved from https://www.adb.org/sites/default/files/publication/176571/tvet-hrd-south-asia-sri-lanka.pdf
Central Bank of Sri Lanka (2016). Annual Report 2016. Retrieved from: http://www.cbsl.gov.lk/pics_n_docs/10_pub/_docs/efr/annual_report/AR2016/English/ content.htm
Ministry of Education, Sri Lanka (2014). Monthly allowance for the students of national collages of education will be increased up to 4000 rupees from the next year. Retrieved from http://www.moe.gov.lk/english/index.php?option=com_content&view=article&id=1235 &Itemid=1055
Tertiary & Vocational Education Commission (2016). Labor Market, Information Bulletin. Volume 02/16. Sri Lanka: Colombo
Innovative Strategies in Technical and Vocational Education and Training for Accelerated Human Resource Development in South Asia: Sri Lanka. (2014). Retrieved from https://www.adb.org/sites/default/files/publication/176571/tvet-hrd-south-asia-sri-lanka.pdf
UNESCO-UNEVOC (2018). World TVET Database: Sri Lanka. Retrieved from: https://unevoc.unesco.org/wtdb/worldtvetdatabase_lka_en.pdf
---
GDP
$80,676,681.93 (2020)
---
GDP Per Capita
$3,680.7 (2020)
---
Currency
Sri Lankan Rupee (LKR) = 100 cents
---
Major Exports
Tea (6.96% = $811M), Other Women's Undergarments (6.11% = $711M), Knit Women's Undergarments (4.95% = $577M), Non-Knit Women's Suits (4.61% = $537M), and Knit Women's Suits (4.4% = $512M)
---
Major Imports
Refined Petroleum (10.6% = $1.87B), Light Rubberized Knitted Fabric (4.6% = $815M), Gold (3.48% = $617M), Cars (3.13% = $555M), and Broadcasting Equipment (2.05% = $362M)
---
Major Industries
processing of rubber, tea, coconuts, tobacco and other agricultural commodities; telecommunications, insurance, banking; tourism, shipping; clothing, textiles; cement, petroleum refining, information technology services, construction
---
Major Export Partners
United States (24.3% = $2.82B), India (8.37% = $974M), United Kingdom (7.3% = $850M), Germany (7.2% = $839M), and Italy (4.07% = $474M)
---
Major Import Partners
India (23.9% = $4.23B), China (23.1% = $4.08B), Singapore (6.64% = $1.18B), United Arab Emirates (5.97% = $1.06B), and Malaysia (4.81% = $851M)
---
Foreign Exchange Reserves
$5,663,994.39 (2020)
---
Ease of Doing Business Rank
99th (out of 190) (2019)
---
Inflation
3.4%
---
Population below Poverty Line
4.1% (2016)
---
Gini Coefficient
39.3 (2016)
---
Competitiveness Rank
84th (out of 140)
---
Employment Rate
49% (2020)
---
Unemployment Rate
4.3% (2020)
---
Gotabaya Rajapaksa (https://lankatruth.com/en/?p=13648)
Type of Government
Unitary semi-presidential constitutional republic
---
Head of State
Gotabaya Rajapaksa (President)
---
Head of Government
Gotabaya Rajapaksa (Prime Minister)
---
Legislating Body/Bodies
Sri Lankan Parliament
---

Image from https://www.slgs.com.au/about-us/
Time zone
UTC +5:30
---
Human Development Index
0.782 (high, 72nd out of 189) (2019)
---
Literacy Rate
92.3% of the total population (Male: 93%; Female: 91.6%) as of 2019
---
% of people with internet access
50.8% (approx. 10.90 million of the population) (Kemp, 2021)
---
Life Expectancy
Total: 76 years (Male: 73 years; Female: 80 years) (2019)
---
Doctors per capita
1.2 Physicians; and 2.3 nurses & midwives per 1,000 population (2019)
---
Drives on the
Left
---
Calling code
+94
---
ISO 3166 code
LK
---
Internet TLD
.lk
---